THE STUNNING NEW SEDAN IS ALL SET TO CAPTURE THE ATTENTION OF THE UAE MARKET WITH ITS NOVEL STYLING, QUALITY SAFETY, OUTSTANDING PERFORMANCE & INTELLIGENT TECHNOLOGY
Setting a new technical standard, the Chery ARRIZO5 is the second generation car in the highly popular ARRIZO series. Starting from AED 39,900, Chery Arrizo5 is all set to be a game-changer in the category with its stylish, aggressive and advanced features.
In keeping with the latest design trends in the automotive world, Chery, by integrating the work of world-renowned designers with the traditional Chinese cultural element of "water" has given the Chery ARRIZO5 a dynamic streamlined H.D.S (Hydro dynamic surfacing) body style.
Featuring generous proportions, there is plenty of room for up to five people in the passenger compartment, the new sedan's body is set at 1825mm width making it more spacious than the rivals hands down in passenger space and room for a trunk of 430 litres.
Inheriting the familiar design style of Chery brand on the whole, the ARRIZO5 features a piano finish on the black grille that not only adds a shine, but also gives a dynamic look, while protecting it against corrosion and aging.
Sitting smartly on 16-Inch aluminum alloy rims, Chery ARRIZO5's Dynamic Body Design is complete with the stylish Willow Leaf Shape Headlights with daytime running light and with guide me home function, "L" Type Led Taillight and LED turn signal lamp has been integrated to the outside rearview mirrors.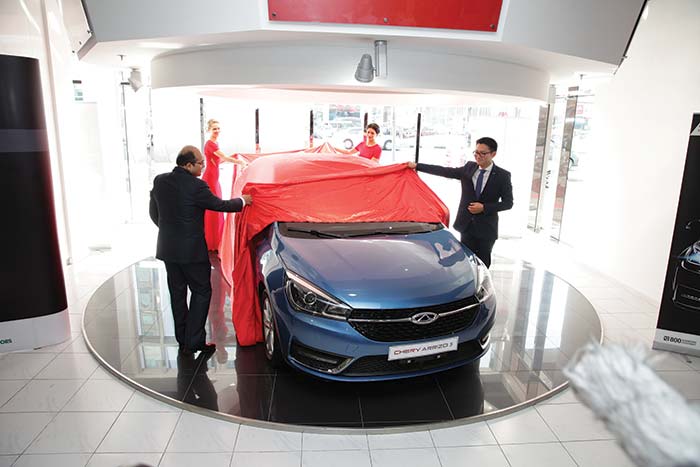 SAFETY: C-NCAP FIVESTAR SAFETY STANDARDS
Chery Arrizo5's exterior adopts a special metal folding technique which adds to the safety factor of the vehicle. With more than 60% of high-strength steel used in the body cage construction, super high-strength thermal-forming steel applied in six positions and increased thickness of pillars, the new car has a longer service and enhanced protection of the occupants. Adhering to Chery's eternal commitment of "More Care, Higher Safety", the car safety is designed according to latest (2015) C-NCAP highest impact safety standard.
When it comes to active safety features, the ARRIZO5 has the most advanced ABS (Ver. 9.0) from BOSCH, ultrashort braking distance of 100 – 0K/h in 39.3m. Additionally, safety concept like DSE (dynamic safety engineering) ensures devices like emergency brake alarm, speed-sensitive locking, TPMS, ESP and HHC, all work together adding to the driving safety. Dual front airbags enhance the driver and front passenger protection. The car's safety also benefits from Tyre Pressure Monitoring System (TPMS), Hill Hold Control (HHC), and ABS + EBD + TCS + ESP braking system.
REAR PASSENGER SAFETY: ASPS SKID RESISTANCE PROTECTION SYSTEM
To maximize the protection of rear seat passengers under emergency braking, there's Perfect design combination of three point safety belt and tilting seats. Add to that, height adjustable headrest in rear seat further protects rear seat passengers' neck and head under rear collision cases.
ENGINE & TRANSMISSION: DVVT+CVT GOLDEN POWER COMBINATION
Powered by a robust 1.5 liter high performance DVVT engine, produces large torque output under slow engine speeds offering lower fuel consumption and environmental friendly emission. Combined with CVT there's efficient power transmission, which could reach 90%. It could reach the optimal balance between power and energy consumption by efficiently reducing power loss and substantially increase the energy efficiency.
Considering various road conditions that may encounter in driving, is configured with both ECO mode and SPORT mode. ECO mode enables you to drive at high speed at ease, and SPORT mode brings for you endless driving pleasure.
Chassis system is attentively set up by German Bentler, enabling perfect integration of maneuvering stability and comfort, and making ARRIZO5 the ideal choice for family and business travel. The car features McPherson independent suspension on the front and semi-independent suspension on the rear.
STAYING CONNECTED: ONE-PIECE CONSOLE
7-inch HD touch screen in the heart of the One-Piece Console displays all critical information in a clear and easy way. It also offers connections for SD, USB, WIFI and bluetooth devices. With mobile phones becoming a necessary tool in daily lives, and ARRIZO5 is able to map the cell phone interface to the in-vehicle display screen for two-way interaction, realizing unity of human and car in a real sense.