The racing world has taken notice of The Saudi Cup in a big way. From the record prize money of the $20 million namesake fixture to a brilliantly executed inaugural event from a hospitality standpoint, the Riyadh showcase has set the bar high as it heads into its second edition. Add to that the ever-present complications of the COVID-19 situation and 2021 is looking like a memorable renewal in many ways. Prince Bandar bin Khalid Al Faisal, chairman of the Jockey Club of Saudi Arabia, kindly took the timeto discuss the 2021 Saudi Cup, which will include another supporting card of rich global affairs.
"There were so many positive things to take out of Saudi Cup 2020, but one of the most pleasing aspects for me, personally, was the level of support we received from the world's top trainers and owners," Prince Bandar said. "In the eyes of the racing world, we were an unknown quantity and we knew our biggest task would be demonstrating to the industry that we are a safe pair of hands. The fact that the inaugural Saudi Cup welcomed 22 individual Group or Grade 1 winners is an excellent measure of the level of delivery achieved and we only want to build on that.
"We received brilliant feedback from some of the most respected players in the horse racing industry and were incredibly proud to host these amazing animals and their connections in Riyadh," he continued. "Now we will take that feedback forward and use it to deliver an even stronger event in 2021."
Moving forward to 2021 means a set of new circumstances. Not only the essential balancing act of trying to maintain the momentum of a blockbuster opener while growing the product, but also doubly unchartered territory of a global pandemic. Speaking to the former, Saudi Cup announced purse increases to the Saudi Derby, Obaiya Arabian Classic (for Purebred Arabians, naturally) and the Jockey Club Local Handicap for Saudi-based handicappers. The overall increase bumps the day to $30.5 million in prize money.
"The Saudi Cup is here to stay and we wanted to demonstrate our commitment to the sport and to the long-term development of the Saudi Cup race weekend," Prince Bandar explained. "We felt that the races with increased prize money this year were deserving of it. The Saudi Derby (up from $800,000 to $1.5 million) has produced excellent form especially from the runner-up, Mishriff, who has gone on to great things in England and France. We would like to see the race develop into a prestigious Derby on the global calendar and the prize money boost reflects this aspiration.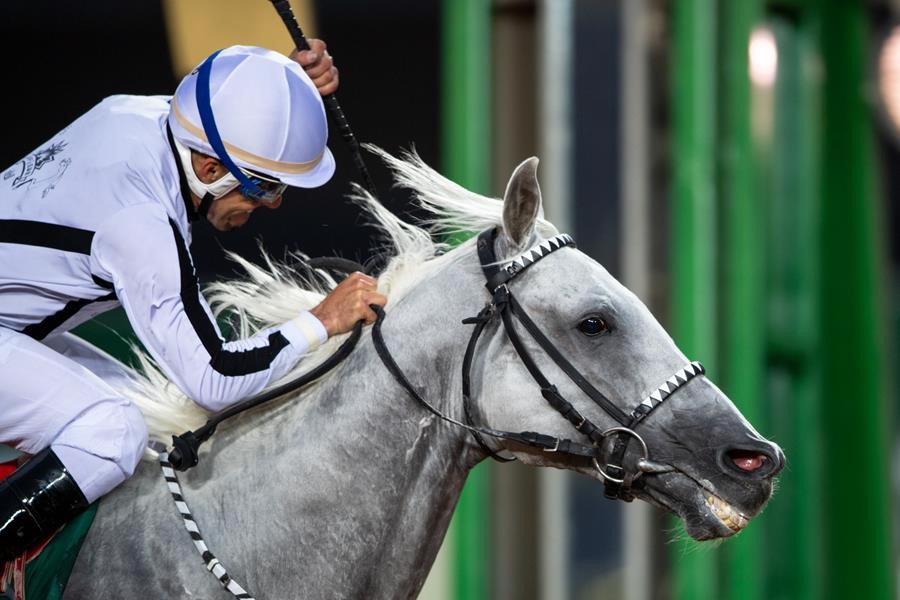 "The Obaiya Arabian Classic ($1.9 million to $2 million) is the richest Purebred Arabian race in the world and a key contest that celebrates the heritage of the Purebred Arabian horse and the high standard of global competition that exists in this code of racing. We saw the Jockey Club Local Handicap ($500,000 to $1 million) as a fitting way to honour the domestic owners, trainers and jockeys who have supported the industry week-in-week-out for many years in Saudi Arabia and the prize money on offer in 2021 reflects this."
Regarding COVID-19, the tone is definitely one of reflection and humility. During the week of Saudi Cup, the world was struck with sudden, intense travel lockdowns and a palpable sense of anxiety. Prince Bandar and his team, captained by Tom Ryan (Director of Strategy & International Racing), flourished through said trial, putting on an enjoyable show that featured popular winners from France, Japan, Saudi Arabia, Bahrain and America.
"We felt that the inaugural Saudi Cup was very fortunate with the COVID-19 situation," Prince Bandar said. "We certainly had some difficult moments at the last second with getting everyone into the country, but we were able to move quickly and find the solutions that allowed us to successfully stage the event. Since February 2020, the world has changed, especially the world of large events where people would normally congregate. We have been able to closely observe the measures taken by other sporting events, especially those in major racing jurisdictions. We are working closely with the authorities to ensure best practice for Saudi Cup 2021 and safe travel for our guests.
"The main take out from the COVID-19 era is the necessity of robust communications and agile management," he continued. "We will be keeping all our stakeholders fully informed of our decisions at the earliest stage and our decisions will be made with the goal of holding the most accessible and safest event possible in the current global situation."
Keeping an eye on the future, one would be remiss if they did not query about an expansion of Saudi Arabia's elite international racing, such as a Carnival-style programme leading up to the $30.5 million day. This comes at a time when flat racing is flourishing in the region, accentuated by the $650,000 Bahrain International Trophy set for November, Abu Dhabi's $1.3 million Sheikh Zayed bin Sultan Al Nahyan Jewel Crown in December and the long-esteemed Dubai World Cup in March.
"The Jockey Club of Saudi Arabia has made no secret of the fact that we have ambitions to expand our offering, both on the domestic front and internationally," Prince Bandar concluded. "The key to this in the first instance is a cooperation between the Gulf racing countries and this is something we are pursuing and have been developing for a number of months."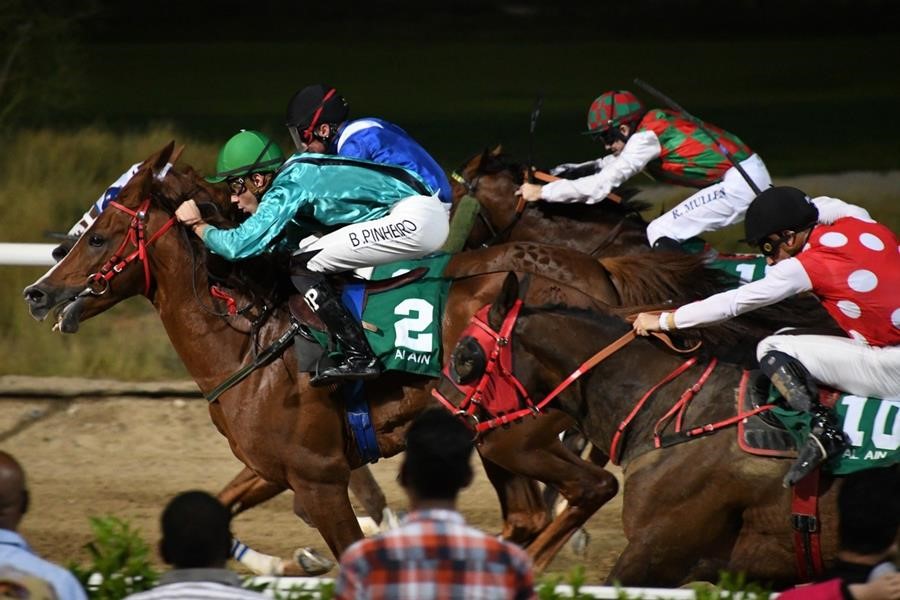 Images
-Full Flat wins the inaugural Saudi Derby (The Saudi Cup/Neville Hopwood)
-Omsiyaatee wins the Jockey Club Local Handicap (The Saudi Cup/Doug De Felice)
AL AIN BOOKENDS 2020-21 UAE CALENDAR
There are few better places to spend an evening of racing than Al Ain Racecourse and when post-pandemic normalcy returns, spectators will be able to attend and experience it again. For now, horsemen will be partaking in the unique location's serene setting and sport-centric mindset. Perhaps speaking to those attributes, Al Ain has the honour of beginning and ending the 2020-21 UAE season on Thursday, October 29, and Friday, April 9, respectively.
"It's obviously exciting for us to have the first meeting of the season for the first time," said Tom Buchanan, operations manager. "Obviously during the COVID times, it's a very different start to the season than we had hoped. You always hope to have the place filled with a few thousand spectators plus owners and trainers, but we are still looking forward to hosting and putting UAE racing back into the spotlight.
"The people who have been to Al Ain know there's nothing like it when they're in the home straight and seven or eight thousand people cheering on their horse," he continued. "It adds to the excitement and we hope to have that back soon, but for now we are getting used to the new normal and will start limited, of course. We will follow the guidelines and get racing back going."
Through nine years with Al Ain and two now heading operations, Buchanan has helped elevate the facilities and experience at one of UAE sport's hidden gems. Located about 90 mins away from both Abu Dhabi and Dubai, Al Ain Equestrian, Shooting & Golf Club has all of the above, as well as rugby and cricket facilities and dining.
"This place has fantastic racing facilities and fantastic golf facilities, so I was very fortunate to get a dream job as a professional golfer by trade who loved horse racing," Buchanan said. "We have learned a lot from this (COVID-19) ordeal and have improved the facility, as well. It's improving all the time and is an unbelievable place.
"When you come through that front gate, it's a different world," he continued. "Once people have been here, they come back because it does have that vibe and good energy to it. Our repeat business is great and we work hard to get people here in the first place, which is the hard part. We use the hashtag 'something for everyone' and it's true. Whoever you are, you can find something to do within this resort, that's for sure."
Images
-Purebred Arabians rounding the bend (Al Ain Races)
-Tight finish with crowd (Al Ain Races)
FANAAR LEADS WATSON TRIO FRIDAY AT JEBEL ALI
Friday's first meeting of the 2020-21 season at HH Sheikh Ahmed bin Rashid Al Maktoum's Jebel Ali Racecourse is one full of wide-open affairs, including the afternoon's co-featured 1400m handicap up the famous hill. Worth AED 96,000 (about $26,000), it is topped by a talented trio from the Red Stables of multi-seasonal champion trainer Doug Watson.
Fanaar (rated 100) leads the weights for HH Sheikh Hamdan bin Rashid Al Maktoum, sporting the famous blue and white silks. He will be ridden by Sam Hitchcott and has some impressive back-class, having faced the likes of Mohaather, Pogo and Beat Le Bon in his past-performances. In England, he was trained by William Haggas in 2018 and 2019 and won a pair of races—over 1200m and 1400m—before heading to Watson's care in 2020. From his three UAE tries in a four-week span, including a good fourth by two lengths over this layout in March, the son of Dark Angel has license for improvement.
"Fanaar, who ran fourth up there, we're probably going to drop him back to sprinting this year," Watson explained. "I think he's a different horse this year than when he first got here. I'm sure Pat (Dobbs, stable jockey) will ride Mystique Moon, he likes the horse, but I think Fanaar will run well."
Watson also starts the Mohd Khalifa Al Basti-owned duo of Mystique Moon (97) and Just A Penny (98), who have 13 wins between them from 47 starts. Mystique Moon has won five of 16 and has two victories over this course and distance. He faced tough competition last year, including finishing fourth in the Jebel Ali Mile (G3), but should be within his element on return. Just A Penny is the elder statesman of the lot, at age eight, and enters off a win over 1950m on March 20 on this course.
"Mystique Moon is decent fresh and he's been training great," Watson continued. "If we have him close (to race fitness), he will run a huge race. The other two may be a bit fitter than he is, though Just A Penny almost always needs his first race. We'll give him a try and we'll get him started. Seven (furlongs) straight up the hill is a nice place to start the season."
With the handicap conditions, Fanaar carries 60kgs to Just A Penny's 59kgs and Mystique Moon's 58.5kgs. Other main players include the swift High on Life (rated 98) and course-loving Ode to Autumn (97), while Alkaamel (93) must be respected.
Image
-Fanaar wins the Listed Spring Cup (Lingfield Park)
MIDDLE EAST INTERESTS APLENTY AT BREEDERS' CUP
Next weekend's Breeders' Cup World Thoroughbred Championships will be have plenty of rooting interests from the Middle East region, with pre-entries due out Wednesday. Saudi Arabia will have the usual suspect of Prince Khalid Abdullah's Juddmonte Farms colours in action, as Irish champ Siskin (trained by Ger Lyons) makes his swan song in the $2 million Breeders' Cup Mile (G1). The famous pink and green silks could also be aboard Bonny South (Brad Cox) in the $2 million Breeders' Cup Distaff (G1), while Amr F. Zedan's Zedan Racing Stables will start possible $2 million Breeders' Cup Juvenile Fillies (G1) favourite Princess Noor (Bob Baffert).
United Arab Emirates interests will be piqued by the immensely talented 2-year-old Essential Quality (Cox), who appears to be Godolphin's best chance all weekend in the $2 million Breeders' Cup Juvenile (G1), while the 'Boys in Blue' will possibly be represented by two girls in the Filly & Mare Turf (G1), Half Light (Henri-Alex Pantall) and Terebellum (John Gosden). Emirates Park Pty Ltd's Mehdaayih is also under serious consideration for the same race. Meanwhile, HH Sheikh Hamdan bin Rashid Al Maktoum has one of the top choices in the $1 million Breeders' Cup Juvenile Turf (G1), Mutasaabeq (Todd Pletcher) and HH Sheikh Zayed bin Mohammed Racing's Lord North (Gosden) looms large in the $4 million Breeders' Cup Turf (G1).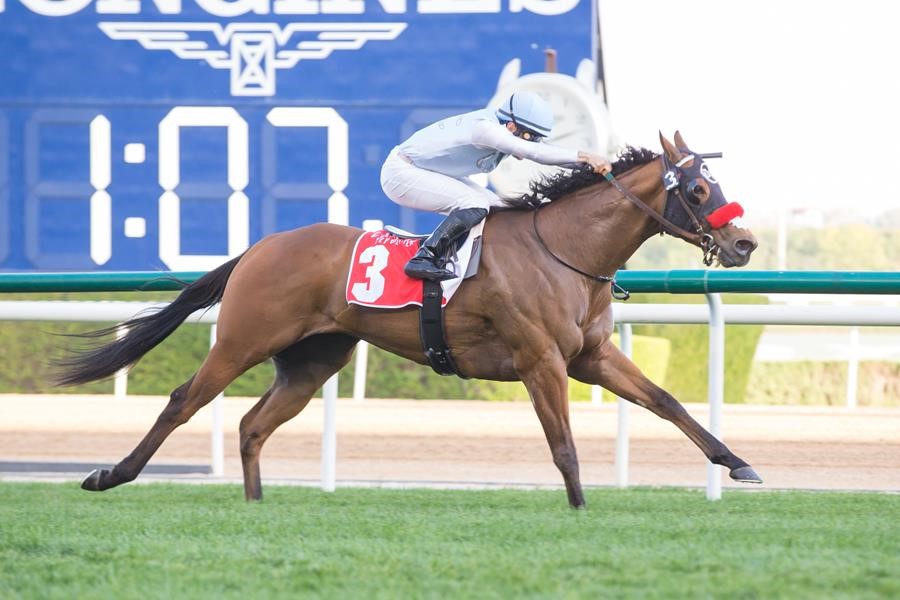 Three Dubai World Cup Carnival winners also look to enter, if all goes well, including WC Racing's Wildman Jack  (Doug O'Neill), who set the 1200m turf standard at Meydan when winning Super Saturday's Nad Al Sheba Turf Sprint (G3) and is a hopeful for the $1 million Breeders' Cup Turf Sprint (G1). Cool Silk Partnership's Carnival handicap winner Midnight Sands (Brendan Walsh) remains possible for the $1 million Breeders' Cup Dirt Mile (G1), while Mrs. Fitri Hay's Dubai Dash (Listed) winner Equilateral (Charlie Hills) may join Wildman Jack.
A clearer picture will commence with the pre-entries announcement Wednesday and subsequently confirmed shipping plans. The declaration equivalent, the post-position draw, takes place Nov. 2.