37th Snow Polo World Cup St. Moritz 2022: A tournament of superlatives
Demand reached a peak; more teams, more spectacle, more spectators. The 2022 edition of the Snow Polo World Cup St. Moritz, from 28 to 30 January, once again turned out to be an outstanding event delivering formidable polo played in front of packed grandstands. A record number of spectators – tallying an estimated 22,000 over the three days of the tournament – followed the matches on the frozen Lake St. Moritz. Team Azerbaijan Land of Fire – with team captain Elchin Jamalli, Argentine cousins Adrian and Raul Laplacette Jr. and local player Tito Gaudenzi  – took home the trophy. They defeated Team Clinique La Prairie in a thrilling and hard-fought Final played against the magnificent backdrop of the Engadine mountains in glorious sunshine.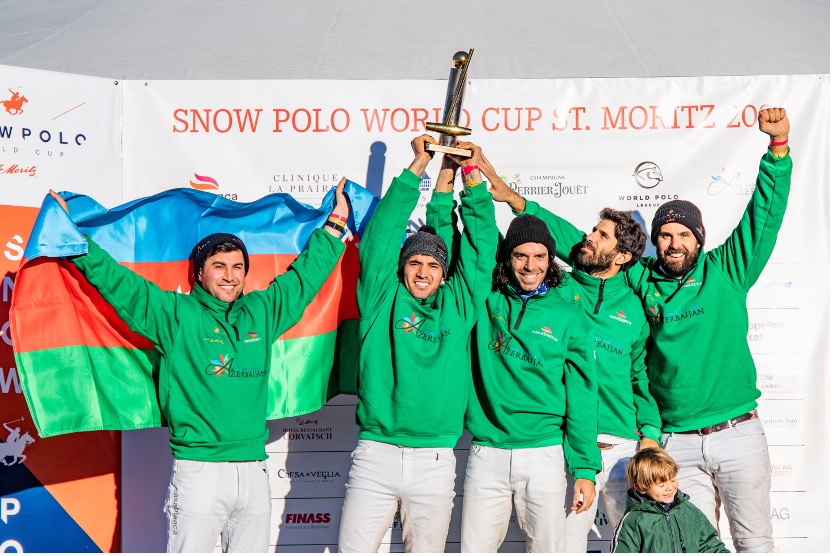 After a one-year hiatus, the Snow Polo World Cup returned onto the world polo stage with a bang: the tournament, organised to perfection, saw a complete sell-out, with waiting lists for both VIP and Chukker Club tickets as well as the gala and hotels of the resort reporting record bookings. Weather-wise too, St. Moritz was in good graces with the gods of polo, with perfect conditions reigning over the three days. For the 37th time, the impeccably groomed playing field directly on the frozen Lake St. Moritz played host to polo superstars from across the globe who had jetted in to take part in this prestigious event.
Months of intensive preparation go into the three-day tournament. Stables must be provided for the 120 polo ponies arriving from all over Europe,  2,600 tons of infrastructure will be installed on the frozen Lake St. Moritz, visitors and sponsors fly in from all four corners of the world. The organisers, headed by founder and CEO Reto Gaudenzi, opted to invite six instead of the former four teams to meet the unusually high demand. This is a first, seeing a new match mode with three games a day. This year's edition of the Snow Polo World Cup St. Moritz demonstrated beyond a doubt that the event is not only a high point of the St. Moritz calendar but also an important marker in the global polo scene.
Sparkling snow and spectacular polo action
As the sun rose above the Engadine mountains, the anticipation on the frozen Lake St. Moritz, the birthplace of snow polo, was palpable. The 'Godfather of Snow Polo' Reto Gaudenzi, founder and CEO of the tournament, had on the opening night so aptly described the event as "a delicious cocktail – a perfectly crafted blend of luxury, nature's beauty, world-class polo, entertainment and friendship". And how right he proved to be: The standard of polo displayed was excellent, and those interested in the social side of the event were not disappointed either. There was much to enjoy in this truly remarkable venue – seemingly never-ending champagne, lavish hospitality areas, and, of course, meeting old friends and making new ones.