The Dubai Open celebrates its tenth anniversary as the region's largest polo tournament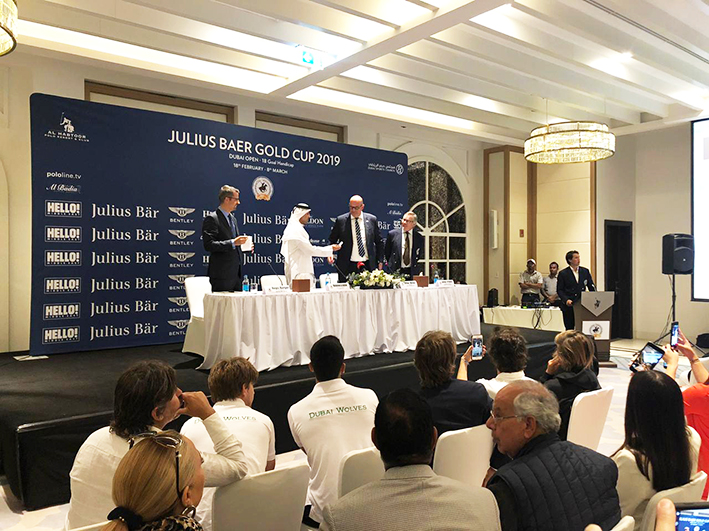 The Julius Baer Gold Cup, the region's largest polo tournament, returns for
another year under the Patronage of HH Sheikh Maktoum bin Mohammed bin Rashid Al Maktoum, Deputy
Ruler of Dubai. The live draw for the Julius Baer Gold Cup 2019 fixture was held on 10 February 2019 at the
Al Habtoor Polo Resort & Club, the home ground of the Dubai Polo Gold Cup (DPGC) Series.
The Gold Cup (Dubai Open) now in its tenth year, is one of the five mid to high-goal tournaments that fall
under the umbrella of the DPGC Series. It has grown in parallel with the city of Dubai and is the only
tournament in the United Arab Emirates (along with the Dubai Challenge Cup and the Dubai Silver Cup, also
part of the DPGC Series) to be certified by the World Polo Tour (WPT) since 2012. The Gold Cup is part of
the WPT Championship Cup which is considered as the highest competition in terms of points and awards
80 points to its winners, 40 points to the finalists, 25 points to the semi-finalists and 10 points to all other
participating players. Only four other tournaments in the world are competed in this category under the WPT.
The Dubai Open is played under the banner of the Hurlingham Polo Association (HPA) with tournaments
being played under strict international supervision according to the HPA rules and provision of its umpires.
The tournament has received tremendous support from its title sponsor since 2014 – Julius Baer, a leading
Swiss private banking group with presence in all major financial centres including Dubai, Frankfurt, Geneva,
Hong Kong, London, Luxembourg, Milan, Monaco, Montevideo, Moscow, Mumbai, Singapore and Tokyo.
The Julius Baer Gold Cup 2019 will officially kick off on Monday 18 February 2019 with eight teams
competing until Friday 8 March for the prestigious title and trophy.
Mohammed K. Al Habtoor, Vice Chairman & CEO of Al Habtoor Group, Founder of the DPGC Series and
Patron of Habtoor Polo team was joined for the live draw by Régis Burger, Head Middle East, Julius Baer
(Middle East) Ltd., Trevor Weller, Prestige Director, Al Habtoor Motors (Bentley Emirates), and Santiago
Torreguitar, Tournament Director of the Emirates Polo Association.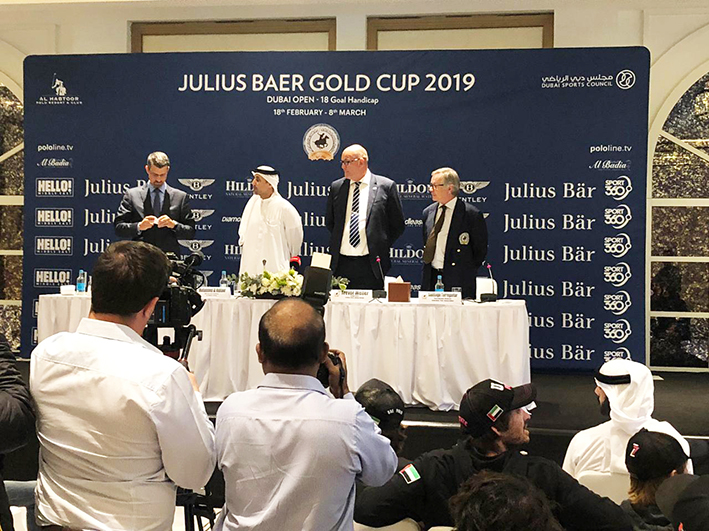 Al Habtoor said, "As a team patron and a polo enthusiast, I am excited to have eight strong teams with
remarkable top-ranking players join us for the Julius Baer Gold Cup this season. As we celebrate the tenth
anniversary of the Gold Cup tournament, I take this opportunity to thank of our patrons, sponsors, players
and polo enthusiasts and the city of Dubai. Without their support this milestone would not have been
possible."
Régis Burger, Head Middle East, Julius Baer (Middle East) Ltd. said, "During our presence in the region for
the past 15 years, we have sought forward-thinking partnerships that stand out within the Middle-Eastern
region and the Julius Baer Gold Cup is one of them. Polo has been identified as one of the pillars in our
sponsorship strategy as it provides a platform to connect with our clients and add value. The game of polo is
one that mirrors fundamental attributes that are in in line with Julius Baer's corporate philosophy, as it
symbolises tradition, team spirit, and encompasses an innovative spirit: values that we have embodied since
our inception. We are proud to continue our association with what has now become the leading polo
competition in the Middle East and wish all competing teams the best of luck."
Participating teams include:
* Abu Dhabi Polo Team (Patron: Faris Al Yabhouni)
* Desert Palm Polo Team (Patron: Rashid Albwardy)
* Dubai Wolves (Patron: Habtoor Al Habtoor)
* Ghantoot Polo Team (Patron: HH Sheikh Falah bin Zayed Al Nahyan)
* Habtoor Polo Team (Patron: Mohammed K. Al Habtoor)
* Mahra Polo Team (Patron: Rashid Al Habtoor)
* UAE Polo Team (Patron: HH Sheikha Maitha bint Mohammed bin Rashid Al Maktoum)
* Zedan Polo Team (Patron: Amr Zedan)