The undisputed feminine icon of Richard Mille, the RM 07-01 collection, continues to cause a sensation with every new iteration. Three new limited-edition models in technically advanced ceramic, with radiant multi-material guilloché dials embody the RM 07-01 collection's no-compromise approach to aesthetics and performance, combining the very highest levels of mechanical watchmaking, movement engineering and decorative finish.
Each of the three models in the new RM 07-01 Coloured Ceramics collection, set apart by brand new case colour and graphic dial elements, is limited to an edition of 50 timepieces. The RM 07-01 Pastel Blue, RM 07-01 Pastel Pink and RM 07-01 Pastel Lavender are shots of sheer summer delight, housed in cases of ceramic and animated by the automatic CRMA2 in-house movement. The segmented central dial plates are assembled from inserts of ceramic, geometrically patterned rubber and — a first for Richard Mille hand-crafted guillochage.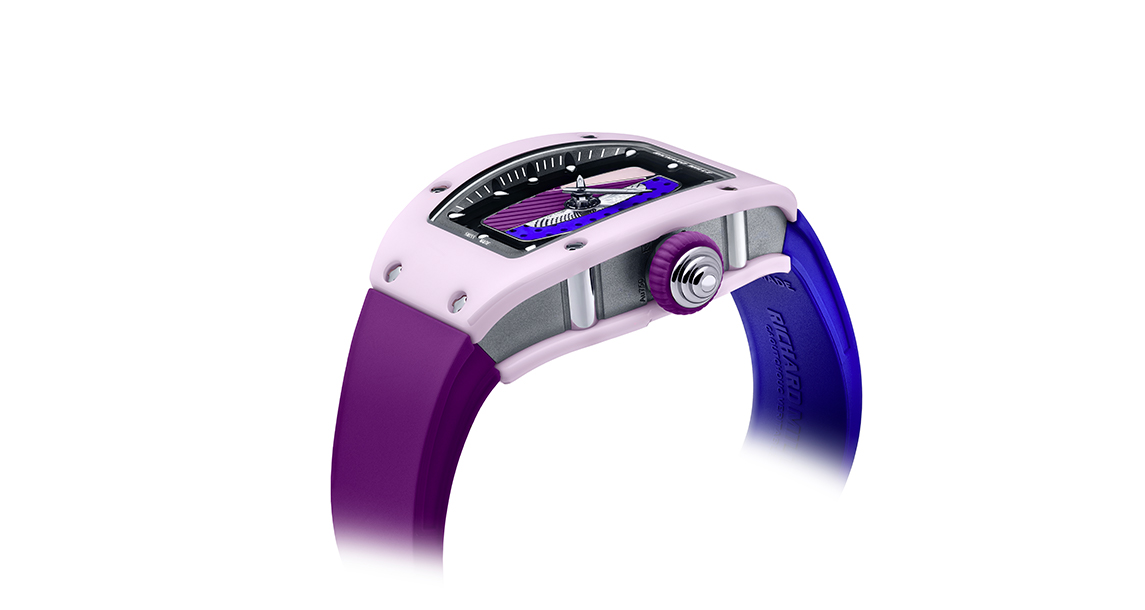 Guillochage is a decorative craft that has its origins in the 16th century. In its most authentic form, dial guillochage consists of individual repeating lines, cut by a hand-turned lathe, that intersect and overlap to create a graphic motif. Practitioners of this art, known as guillocheurs, can train for decades before they are considered masters of their craft.
Seen today in watches of classical style, Director of Creation and Development Cécile Guenat considered incorporating this within a Richard Mille watch but with a unique fresh pop of energy. Therefore, in typical Richard Mille fashion, the RM 07-01 Coloured Ceramic models have taken this centuries-old technique and applied it in creative ways that demonstrate the brand's ability to subvert established ideas.
The rhodium-plated red-gold dial element at the center of each RM 07-01 is a segment of a larger pattern, a motif that is part botanical with six lobbed, part sunburst, part Art Deco and all Richard Mille.
Their lines subtly align with the floating hour markers on the microblasted titanium flange. Surrounding the guilloché dial segment and reinforcing the theme of modernity blended with tradition, are geometrically shaped elements of ceramic and rubber, in perfect complement with the ceramic case and bi-colour rubber straps.
There are three colour variations within the RM 07-01 Coloured Ceramics collection — TZP pink ceramic with cerulean-lilac rubber strap, TZP lavender ceramic with coral-tangerine rubber strap, and TZP blue ceramic with olive-aqua rubber strap. In deciding on the colours and textures of these new models, Cécile Guenat and her team worked through multiple versions before arriving at these final configurations. 'I was inspired by the Art Deco architecture you see in Miami, these pastel colours and bold patterns that are so distinctive and convey such an amazing vibe and attitude.'
The use of new coloured ceramic in the larger family of RM 07-01 watches is above all playful and energetic but is anchored by its exceptional performance as a case material. TZP ceramic is light, hypoallergenic, durable and virtually scratch-proof, thanks to its zirconium oxide composition and sintering manufacture process. This level of performance is perfectly matched with the automatic in-house calibre CRMA2, made of microblasted and electroplasma treated titanium and capturing its power from a 5N red gold variable-geometry rotor that maintains the watch optimally wound at all times.
Together with the bright energy of the bi-colour rubber straps and the hand-finished sheen of the gold guilloché dial, the ceramic cases of the new RM 07-01 make for three of the most enjoyable Richard Mille watches.