Rach Stud Agropecuária was the grand champion of the Wathba Stallions Cup Grand Prix for Colts II and Fillies II by winning first and second places in the two races held at the Cidade Jardim Hippodrome, Jockey Club de São Paulo. In the GP Wathba Stallions Cup for Colts II played in 1,200 meters on dirt, for animals three-years-old and older, Gunther Rach under the mount of Rudinick Viana dominated the race until the final 150 meters when he was attacked from outside by Mahatma Rach, ridden by Fernando Larroque, who overtook him and opened up four lengths of lead to cross in first place.
Race favorite, Mahatma Rach (*Sarmata x Magic All Rach by Ulisses Rach) has won his sixth victory and has established himself as one of the great champions of Rach Stud. Trained by Lucas Quintana, the two animals are owned by Paulo Jamil Saliba and bred by Rach Stud Agropecuária Ltda. "Since the start I felt that he was very good and in the mood to run and I saved him to be able to dominate in the final meters and we won an excellent victory", said jockey Fernando Larroque.
OSIRIS RACH
In the second race, the Wathba Stallions Cup for Fillies II Grand Prix played over 1,300 meters on the turf for mares three-years-old and older, plus a Rach Stud one-two with Osiris Rach and Naizza Rach.
In a very well contested race, Naizza Rach, led by Rudinick Viana, took the lead in the final 150 meters, with Osiris Rach, ridden by Idevaldo Silva, in pursuit and the two fought for the first place, which was only defined by the cross the goal. Osiris Rach crosses first with a nose of difference.
Jockey Idevaldo Silva stated: "At the start of the straight I felt that Osiris Rach was in a position to win, as she positioned herself very well among the first places and it was an exciting dispute with Naizza Rach."
Trainer Lucas Quintana said: "I am very happy with the first and second places in both races. Mahatma Rach confirmed that he is an excellent horse and has claimed his sixth victory. It is a horse that I am very happy to train. Regarding Osiris Rach, she had told me during practice that she would win in the race. Naizza Rach is an excellent filly and has great potential. Two great races for Rach Stud! I want to dedicate the victories to my wife Monique Mello who has her birthday today." Owner Paulo Saliba said: "It was a fantastic meeting for the Rach Stud racing breeding program. Four our horses went to get first and second places at the two GPs Wathba Stallions Cup. At the males, we got Mahatma Rach (*Sarmata x Magic All Rach) winning his sixth race and followed by his stablemate Gunther Rach (Eksort Rach x Geneve AJR). Both have a lot of speed and that "will to go" that makes so much difference in racing." "At the females, Osiris Rach (Eksort Rach x Olympia Rach) went to her fourth win by a nose over her stablemate Naizza Rach (Feitizzo Rach x La Nouba Endurance). Both sires of these mares are recently deceased and so this conquer is also very emotional for us. We are very proud of what our horses did today and we wish for more days like this!"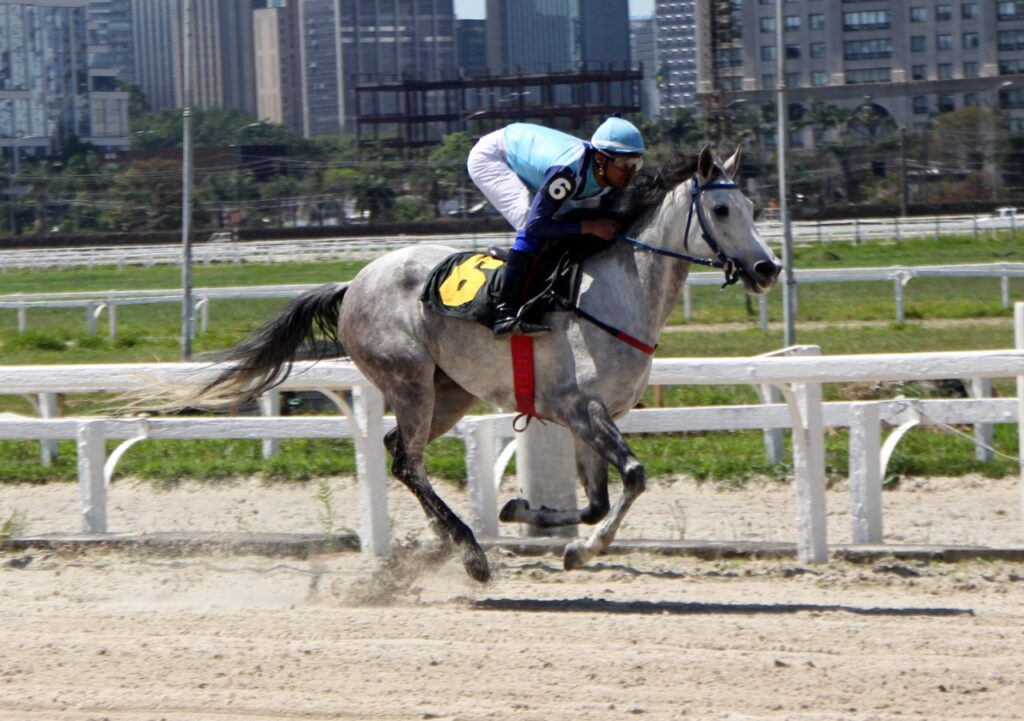 Racing Director of the Arabian Horse Breeders Brazilian Association (ABCCA), Almir José Ribeiro stated: "The São Paulo Jockey Club hosted the most important weekend of Arabian horse racing in 2022; the Wathba Stallions Cup which is part of the HH Sheikh Mansoor Bin Zayed Al Nahyan Racing Festival, the most traditional Arabian horse racing festival in the world. The breeders and enthusiasts of the Arabian sport horse thank Lara Sawaya, Festival Director, and HH Sheikh Mansoor bin Zayed Al Nahyan, Deputy Prime Minister, Minister for Presidential Affairs and President of the Emirates Arabian Horse Society, for nearly a decade of partnership with Brazil that, for sure, would extend over the next few years."
"We had two grand prizes that very clearly showed the development of Arabian horse racing in Brazil and how this generation of sport horses, which today is in Cidade Jardim, demonstrates the real progress in our breeding.." Ribeiro continued: "Congratulations to the Saliba family, especially the brothers Paulo and Ricardo Saliba for their magnificent victories. Undisputed victories! Congratulations to the breeders, owners, the Jockey Club of São Paulo and all those who love the Arabian sport horse for yet another brilliant and unforgettable show in Cidade Jardim." Brazil has been part of the Wathba Stallions Cup calendar since 2014, one of the HH Sheikh Mansoor Bin Zayed Al Nahyan Racing Festival championships; and this year two stages were held: in May and September with two races in each one.
Once again, Rach Stud Agropecuária is the breeder with the most animals in addition to being the largest breeder with the most horses in all races held in Brazil since 2013. In addition to the prizes during the races, all horses participating in the 2022 Race Calendar also compete in the Race category of the Arabian Cup 2022 promoted by the Arabian Horse Breeders Brazilian Association. The Wathba Stallions Cup Awards for Colts II and for Fillies II were organized by the Arabian Horse Breeders Brazilian Association in partnership with the Jockey Club of São Paulo.