IFZA remains the Official Season Sponsor for the polo events in 2022 – 2023 at the AHPRCIn a ceremony held at the Al Habtoor Group Headquarters, the Al Habtoor Polo Resort & Club welcomed IFZA as the Official Season Sponsor of Al Habtoor Polo Club (AHPC) for a third year.
Mohammed Khalaf Al Habtoor, Vice Chairman and CEO of Al Habtoor Group, Founder of the Dubai Polo Gold Cup series (DPGC), President of the UAE Polo Federation, and IFZA Chairman Martin G. Pedersen inked the renewal of the sponsorship deal at the signing ceremony.
This partnership secures IFZA's presence during the Club's calendar of polo events from 2022 until 2023. IFZA will also continue to host its hospitality lounge for its guests, partners, and the media at the Al Habtoor Polo Resort hotel.Mohammed Al Habtoor stated, "It gives me great pleasure to welcome the International Free Zone Authority back for another year as a sponsor of the polo at the AHPC. With the support of IFZA, we are able to host a great polo season year after year, starting with the world-recognized DPGC series to the independent polo events we hold throughout the year.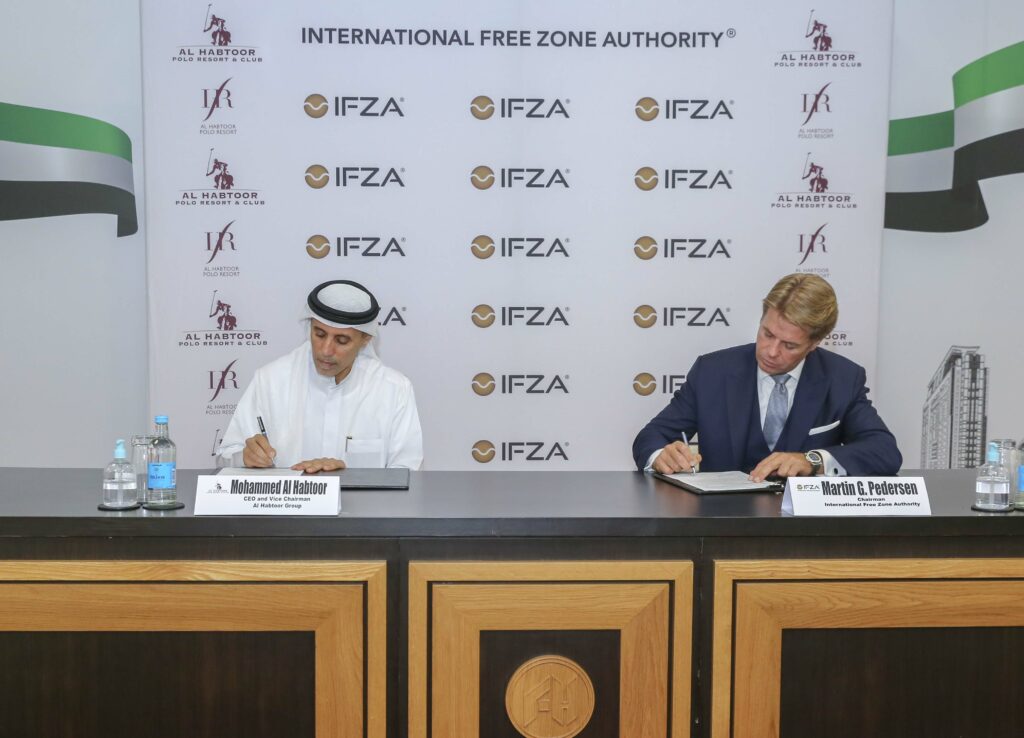 We have built a solid foundation through the passion of our team in bringing the sport of kings into the Middle East. Each year we drive growth to polo in the United Arab Emirates by improving the level of sport that is being played in the region and through the valuable partnerships that share our vision."Martin Pedersen, Chairman of IFZA, said: "As a truly dynamic and international Free Zone community in the UAE, IFZA is committed to forging longstanding partnerships with people who share our passion to position Dubai as a city where people can thrive not only in business, but beyond, regardless of the challenges around us. This is the sentiment that we share with Mohammed Al Habtoor and the Al Habtoor Polo Resort & Club. We consider it a great pleasure to work together with people who are relentless in their efforts to push the sport to even greater heights.
"With IFZA's third year of sponsorship and collaboration, we underline our continued support of contributing to the UAE's sporting landscape by launching the biggest IFZA Polo VIP Lounge to date. This will undoubtedly allow us to introduce more members of our global network of Professional Partners and other guests to Dubai's unique polo scene."
The Club's Polo Calendar started on the 29th October 2021 and will run until 6th May 2023, packed full of low, medium, and high goal tournaments coupled with special exhibition matches and kids polo games.